goward.com - the definitive guide to being a Goward
Suffolk holiday house now available to rent click here for more
This is the Goward Family home page. There will shortly be a slight change of format following a slight change of family format over the last year, but there is still a budding desire to revitalise the site, originally produced in the 1990s and still alive thanks to Ed. Perhaps budding is too strong a word. The main news is Alice as below.
Other related sites are:
Edward Goward - www.edonica.com with many pictures of anonymous persons, and a fridge
Devon was born 24 July 2002, and Maya 16 July 2005. Dhillon was born at 3.55am on March 2nd 2000. He has some silly pages on this site, which you can look at here.
Alice was born on 5th December 2007. You can look at a silly site for her here
On the right is a relatively recent picture of 4 generations: Eileen, Bo, Neena and Maya
<![if !vml]>
<![endif]>
In the last 12 months (to October) Ed and Monica got married.
and so did Rachel and Andrew, though they are so busy it's amazing they found time
<![if !vml]>
<![endif]>There is more Literary News. The most exciting news of November and December 1999 was the publication of Barbaraís book, Telling Tragedy ,
And then in 2005 came Agammemnon
And sometimes we go to Suffolk....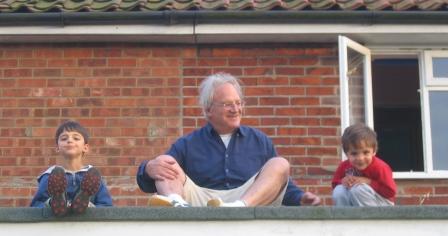 The Goward.com site now includes a tiny amount of information on the place called Goward in Ireland , a small amount of info from the American branch of Gowards, and a tiny bit on UK Gowards. In spite of this apparent interest, Iím afraid I should stress that we are NOT a good contact for Gowards visiting the UK and looking for somewhere to stay, but happy to get into limited email conversation
I am still planning one day to develop some specific history of my bit of the family, to give some context to the picture of my father and grandparents (below), which is about all I know of my forbears. Beginnings now included. Wouldn't it be good if someone had the time to see how many of us would link up. Not me (Chris Goward), I'm afraid . July 2003 note: I have been doing a bit of research on Gowards in Emley Yorkshire around 1900.October 2005 postscript: I have done a tiny bit more, and still have plans...
<![if !vml]>
<![endif]>
Old stuff follows...."In the meantime, the Goward family as I know it can be said to consist of my wife Barbara and me, and three relatively grown-up kids: Rachel, who teaches in Liverpool (but will be joining the Navy in May), Ben, and Ed (elsewhere on this site) . Pictures of most of us. "
And "I used to work at John Laing in Hemel Hempstead. This is a picture of me (on the right) attempting to avoid being evicted by a security man. The guy in the foreground is a Help desk operative who wishes to be anonymous."
Now (October 2005) I work at UCLH, which is a really great improvement. 30 Years in the Construction Industry! Tsk.
I can be reached through: chris@goward.com